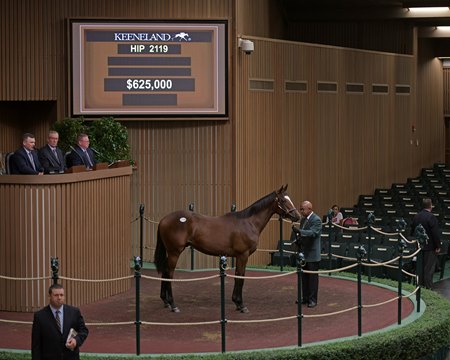 Photo: Anne M. Eberhardt
Yearling bred and sold by KatieRich Farms was purchased for $625,000.
By: Ron Mitchell
Topped by a son of Quality Road  sold late in the session for $625,000, the Keeneland September Yearling Sale powered along Sept. 16, and at the end of the day total receipts were second-highest since 2009.
Keeneland reported 268 horses were sold Monday for gross receipts of $26,756,500, an average of $99,838, and a $73,500 median price. The 105 horses that went unsold represented an RNA rate of 28.2%.
Since this year's sale was reformatted, session-to-session comparisons are not accurate and a true measure of the sale can be made after the Sept. 22 final session.
This year's seventh session would have been comparable to the eighth day a year ago, in which 271 yearlings grossed $19,603,400, with a $72,337 average and $50,000 median.
From 2,142 horses cataloged through Monday—the second session of Book 3—Keeneland sold 1,309 yearlings for $314,829,500, with a cumulative average of $240,511 and a $170,000 median.
That figure exceeds the $307,845,400 figure of 2017 when 2,555 horses were sold and with six days remaining is second only to last year's $377,130,400 total paid for 2,916 yearlings since the industry bottom in 2009 when 3,159 head grossed $191,859,200.
Entering the sales ring late in the 9 1/2-hour session, the session-topper was purchased by Justin Casse on behalf of Team Casse from Larry and Karen Doyle's KatieRich Farms.
The colt consigned as Hip 2119 is a half brother to grade 3 winner Nootka Sound and is out of stakes winner Miss Red Delicious, by Empire Maker .
"(The colt) really presented himself well and looked the part," buyer Casse said. "He's a Quality Road, and we're in Book 3, so the pedigree is going to stick out. It's a nice, active female family, and he's by one of the best sires in the world. And he came from a good farm. I think he'll be a beautiful horse once he gets into training."
The KatieRich team was over the moon with their success with the Quality Road colt, noting that he was earmarked for Book 3 because he was a late foal (April 7, 2018) and because he could be a standout in the session.
"He's a standout colt, probably a little immature and he looked like he would be a good fit for Book 3," said Tammy Ingebritson, of KatieRich.
Also late in the session, Peter Flour's Speedway Stable went to $425,000 for a Bernardini  half brother of grade 1 winner La Coronel. Consigned by Nardelli Sales, agent, the dark bay or brown colt was bred in Kentucky by Kim Nardelli, Rodney Nardelli, Susan Bunning, and Godolphin.
Kim Nardelli said the colt was entered in Book 3 because he would stand out: "Big fish in a little sea."
Mark Taylor, whose family's Taylor Made Sales Agency is leading consignor, said the sale's strength is almost too much of a good thing since some buyers are having difficulty inspecting all the horses.
"It has been very challenging for a lot of people to see the (Sept. 15-16) Book 3 horses because of how congested it has been at the barns, but horses sold well despite that," Taylor said, acknowledging it's a good problem to have.
While there are a number of reasons a Thoroughbred auction can be up or down, Taylor said strength of the U.S. economy was the biggest positive influence on this year's market, taking place in an environment in which Thoroughbred racing is under the microscope.
"The very top of the market is strong, which everyone thought it would be. The economy is rolling and that's enough to overcome some other little glitches and issues that racing has," Taylor said. "The stock market is doing good. Business is doing good. At the end of the day there are lots of people who love to race horses and when those things are doing good we do good. I was worried about issues—mainly California and how healthy the California circuit is—and that has stabilized. But I think the main reason the sale is good is the economy. Almost every person who owns a business that we know through the horse business is saying 'my business is much healthier now than it was five years ago.' They have confidence that their core business is doing well."
Consignor Reiley McDonald of Eaton Sales said buyers were willing to overpay at the top end of the market, resulting in a softer middle market.
"On the top end, the market is unbelievably good, but in the middle it has become very soft," McDonald said. "They'll pay twice as much for one, but not pay 30 cents on the dollar for another."
McDonald said many buyers are still passing up good horses based on pre-sale veterinary inspections.
"People are being very hard on horses based on the vet information and are letting some good horses go by the wayside," McDonald said.